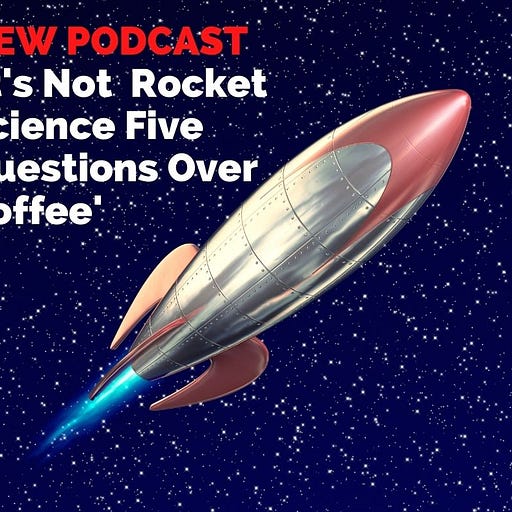 Mar 24 • 22M
Five Questions Over Coffee with Minter Dial (ep. 45)
The mission of It's Not Rocket Science! is to bring a new idea for building business to growth-hungry business leaders and owners who want to do more with less time and so increase their business and influence. We deliver actionable ideas using our "five questions over coffee."
Who is Minter?
Minter Dial is an international professional speaker, elevator and a multiple award-winning author, specialised in leadership, branding and transformation. An agent of change, he's a three-time entrepreneur who has exercised twelve different métiers and moved country fifteen times. Minter's core career stint of 16 years was spent as a top executive at L'Oréal, where he was a member of the worldwide Executive Committee for the Professional Products Division, and previously MD of L'Oréal PPD Canada and MD Worldwide for Redken. He's author of the award-winning WWII story, The Last Ring Home (which is a documentary film and book, 2016) as well as three business books, Futureproof, Heartificial Empathy and his latest book on leadership is, You Lead, How Being Yourself Makes You A Better Leader (Kogan Page).
He is passionate about the Grateful Dead, Padel Tennis, languages and generating meaningful conversations.
Key Takeaways
1. The issue we have today is a big problem around talent, and motivating the people who are working in the teams considering the environment we're working in
2. iI you look at the issue of transformation programmes they are set up as a one-time solution, which will lead to disappointment. It needs to be a mindset change more than a programme. It takes a concerted effort and executives need everybody participating and feeling like they're contributing, feeling like they're being heard as well.
3. Transformation requires five 'E's
Engagement, how are you engaging your team and making them feel like they're part of it.

Exchange. And this idea is how do you make sure that you're listening as much as you're talking, and make sure that there's a two way flow, people feel like they are contributing, people feel that they are being heard.

Emotion, where is the emotional link? How are you making things fun? Where do people feel like they're part of a team.

Experience. it's through experiences that people learn. It's through experiences, like on a rugby pitch with a team that you bond together. So you must create experiences.

Essence, - purpose. What is your essence? Who are you? What do you stand for?
Valuable Free Resource or Action
Minter has a bi-weekly newsletter: https://www.minterdial.com/subscribe/
A video version of this podcast is available on YouTube :
_________________________________________________________________________________________________
Subscribe to our newsletter and get details of when we are doing these interviews live at https://TCA.fyi/newsletter
Find out more about being a guest at : link.thecompleteapproach.co.uk/beaguest
Subscribe to the podcast at https://link.thecompleteapproach.co.uk/podcast
Help us get this podcast in front of as many people as possible. Leave a nice five-star review at  apple podcasts : https://link.thecompleteapproach.co.uk/apple-podcasts and on YouTube : https://link.thecompleteapproach.co.uk/Itsnotrocketscienceatyt!
Here's how you can bring your business to THE next level:
1. Download my free resource on everything you need to grow your business on a single page : https://link.thecompleteapproach.co.uk/1page
It's a detailed breakdown of how you can grow your business to 7-figures in a smart and sustainable way
2. Join The Complete Approach Facebook Group :  https://TCA.fyi/fb 
Connect with like-minded individuals who are all about growth and increasing revenue. It's a Facebook community where we make regular posts aimed at inspiring conversations in a supportive environment. It's completely free and purposely aimed at expanding and building networks.
3. Join our Success to Soar Program and get TIME and FREEDOM. : https://link.thecompleteapproach.co.uk/Success-to-Soar
If you're doing 10-50k a month right now: I'm working with a few business owners like you to change that, without working nights and weekends. If you'd like to get back that Time and still Scale, check the link above.
4. Work with me privately
If you'd like to work directly with me and my team to take you from 5 figure to 6 and multi 6 figure months, whilst reducing reliance on you. Click on https://link.thecompleteapproach.co.uk/DiscoveryCall  tell me about your business and what you'd like to work on together, and I'll get you all the details.